Social Media UX: User-Centered Social Strategies
3rd Edition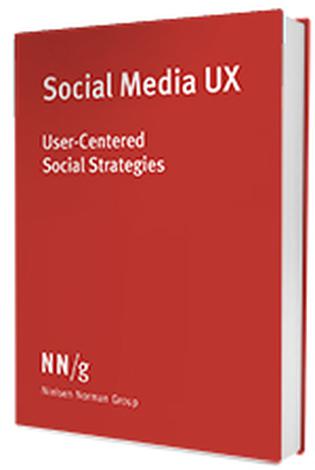 Social media is often a key component of many organizations' omnichannel user experience. That said, users often have different expectations, wants, and needs when engaging with a company on social media versus a website.
This 174-page report provides guidance on creating and delivering a user-centered social strategy that is relevant, informative, and concise. Our findings come from 3 rounds of research with 96 users over the past 11 years. Our research targeted social platforms like Instagram, Twitter, TikTok, and Facebook, and various industries, from ecommerce to government agencies. In this report we'll outline:
6 common interaction types

users have with organizations on social media,

50 design guidelines

based on our research findings, and

166 screenshot illustrations

supplementing our findings.
Related articles: Social Media UX: 3 Research Insights and Companies on Social Media: 6 Interaction Types
Topics
How users interact with businesses on social media

Discover

Research

Engage

Purchase

Support

Promote
Checklist of 50 design recommendations that will make your social presence more user centered

Foundations

Profile design

Building a social following

Creating and writing content

User mental models

Emotion and post design

Voice and tone

What to post

Post design

Secondary post elements: captions and alt text

Engaging with users on social media

Social commerce and selling

Customer support

Advice from participants

Detailed methodology section
What's new in the third edition?
The third edition is a radical transformation. Social media has significantly changed over the past decade, which affected our research interests. The first two editions focused on RSS feeds, and then popular platforms like Facebook, Twitter, Myspace, and LinkedIn. In the latest edition, we take an in-depth look at how ever-growing social features impact user behaviors on platforms like Instagram and TikTok, and how these social platforms play a role in the omnichannel customer experience.
Research Method
To find out how people engage with companies on social media, we conducted three rounds of research over the past 11 years. This report includes findings from all three studies, nearly 100 total users, and various research methodologies like usability testing, diary studies, and interviews.
---
Related