How to Recruit Participants for Usability Studies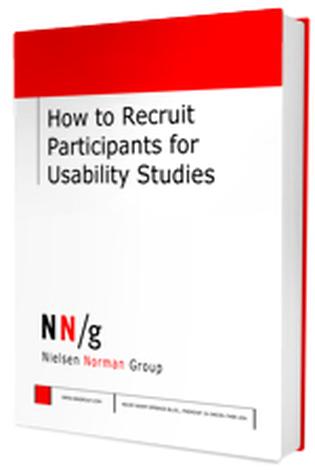 A well-managed recruiting program at an organization allows teams to quickly find quality participants for usability studies.
This 190-page report gives you 234 guidelines on how to set up and manage a recruiting program. It also presents advice on when to outsource to a recruiting agency and when to use in-house recruiting.
Topics covered
Learn how to set up and manage a recruiting program to get the right users for usability studies
Know when it's appropriate to outsource to a recruiting agency or use in-house recruiting
Planning for recruiting

Recruiting criteria
Incentives
Going to participants vs. having them come to you
Screening script and questionnaire

Screening and scheduling participants

Recruiting on your own
Working with an outside recruiting agency
Reusing Participants

Running the test sessions

Ensuring participants' safety, privacy, and physical comfort
Preparing session materials
Dealing with unqualified participants

Building and maintaining a participant database and recruiting staff
Sample scripts and forms
---
Related