Johnson & Johnson is the world's largest healthcare company. Its intranet, Home, supports a global workforce of over 135,000 employees. The goal of its recent redesign was to better unite the digital-workplace ecosystem and drive a one-stop experience for employees.
An Employee-Centered Approach to Reducing Fragmentation
Before the redesign, Johnson & Johnson's intranet team gathered quantitative and qualitative data to learn more about employees' problems with the then current toolset. Workers were frustrated by the absence of a cohesive intranet and surveys revealed that digital tools and content were lacking. Employees shared negative comments such as:
"Bring together the variety of Johnson & Johnson websites into one easily accessible place, so when I need something, there is one website and I know where to go."
"Content is repetitive across our enterprise channels."
After synthesizing employee feedback, the team conducted an audit of the digital workplace. The audit revealed over 650 different intranets, 1,250 applications, 50,000 SharePoint content sources, and 3,500 links. That many fragmented and disjointed experiences made it impossible for employees to find accurate information. This knowledge led the team to create a set of guiding principles and goals to inform the intranet redesign and consolidation efforts.
Guiding Principles:
Build new experiences for employees, in partnership with employees
Build a platform that will give employees time back in their day
Provide a simple, intuitive, and frictionless digital experience
Goals:
Centralize key news and content experiences into one cohesive platform
Provide intuitive tools that help employees get information to do their jobs
Establish governance around the intranet's design, content, and development frameworks
Use efficient site-development tools for cost savings, consolidation, and standardization
One of the most noteworthy features of the redesign is an employee dashboard, which supports productivity and reduces fragmentation. Rather than accessing many different applications, employees can refer to the dashboard, which imports information from digital-workplace tools such as Workday (HR), Cornerstone (learning), Service Now (IT support), and Salesforce (case management). Employees don't have to keep many tabs open while they work or save lengthy lists of browser bookmarks to access the tools they need.
Overcoming Challenges in the Intranet Redesign
A crossfunctional group of 30 people collaborated to design and deliver the consolidated intranet. They overcame two major challenges in the process:   
Change management and communication. People who had long been independent site owners had to transition content from their separate intranets into the redesigned intranet. To convince them, the team engaged key leaders from across the company to provide support and guidance for the approach. Targeted marketing efforts helped excite and inform employees about the new solutions that were coming.
Establishing a universal content strategy and content-governance standards. With over 500 content publishers across the enterprise, the new content strategy had to account for top-down communications and for employee-customized content. Any content moving to the new intranet had to adhere to standards for accurate search results, customizable news, and scalable content-management practices.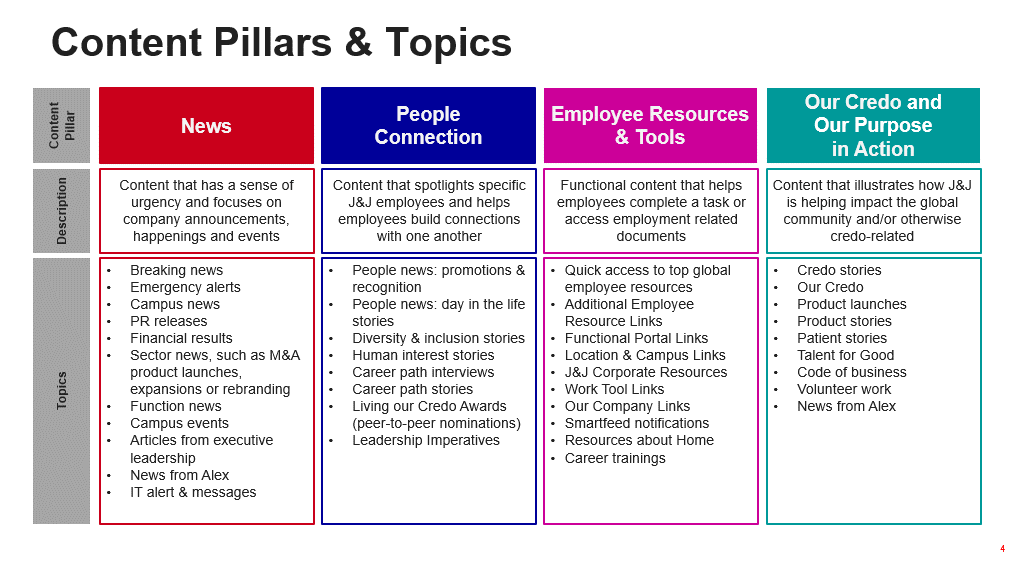 Creating the Intranet's Roadmap
When developing the new intranet, the Johnson & Johnson team received many feature requests and ideas. When responding to requests and prioritizing problems to solve, the team considered many factors, including:
Intended audience: How many employees will benefit from this feature?
Time savings (measured in minutes): To what extent will this feature save employees' time?
Reliable source: To what extent will this feature improve employees' trust in the intranet as a reliable resource for content and information?
User demand: Have many employees requested this feature? Do analytics show an increasing need for it?
Strategic initiatives: To what extent does this feature impact and support our initiatives?
Level of effort: What level of effort and cost are required to deliver this feature?
This approach helped the team create an intranet roadmap to guide sprint plans and priorities throughout the year to iteratively bring the new intranet to life.
Garnering Adoption and Buy-in For the New Intranet
The launch plan for the intranet included several opportunities to drive early adoption. Emails were sent to employees before launch and the team created a welcome video that highlighted the service offerings and benefits of using the new platform. The team also created digital signage for the company's supply-chain employees who access the intranet via a kiosk. The team uses surveys to monitor for feedback from employees and content publishers.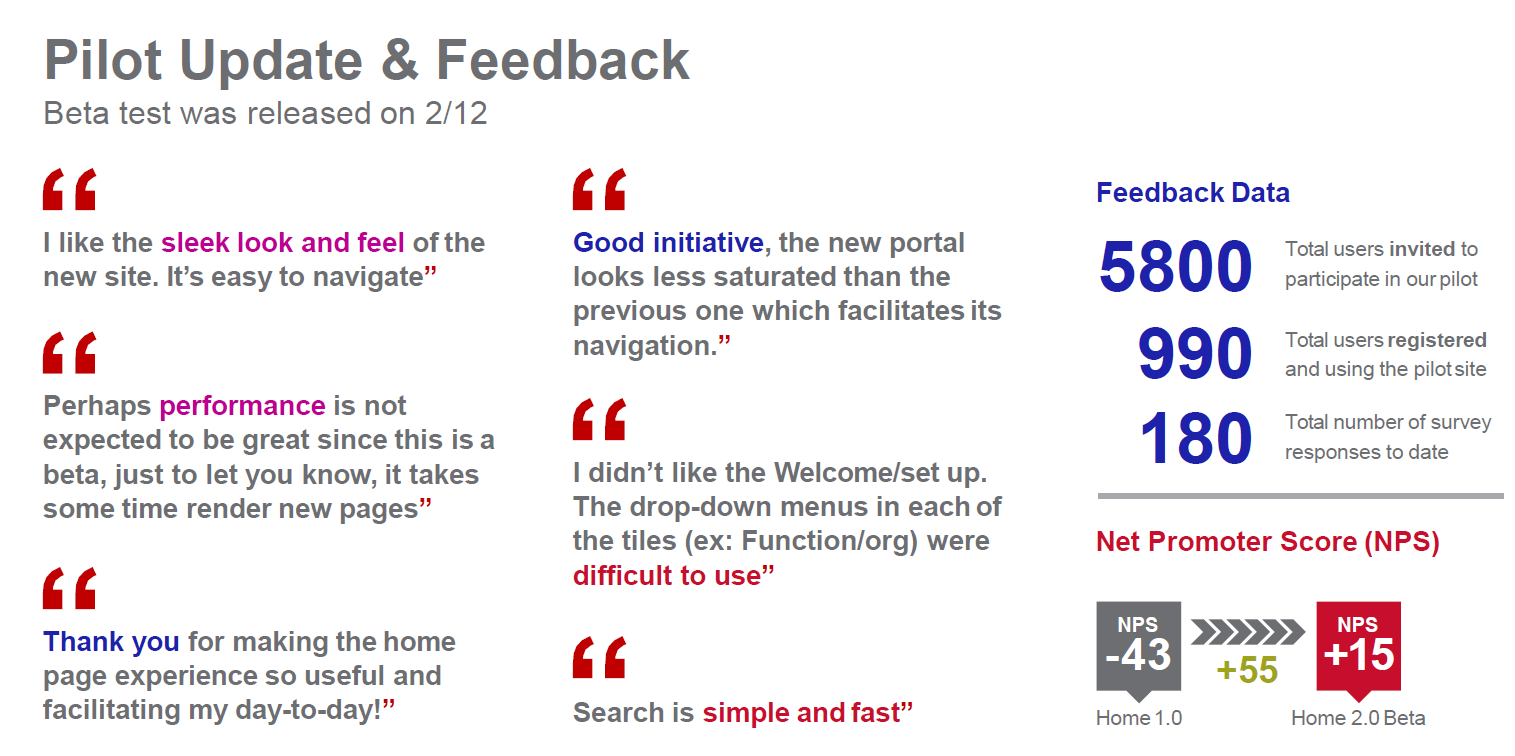 Conclusion
When asked to share lessons learned, the intranet team from Johnson & Johnson said:
"Think in phases and trust the iterative process. Once a vision is established, set the expectation to work toward the vision in manageable steps. Focusing too much on a long-term goal will impede short-term progress. Plan to release often, test and learn, and iterate."
To explore the full case study and review the library of screenshots depicting their winning design details, purchase our 2021 Intranet Design Annual, which is available now.